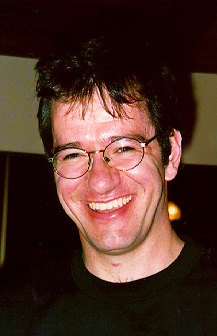 ---
Dr. Ted Haining
Research Fellow, Computer Science
Baskin School of Engineering
University of California
Santa Cruz, CA 95064
haining@soe.ucsc.edu
---
Biography
Dr. Ted Haining originally hails from Upstate New York. He began his college career there at Broome Community College. After receiving his Associate Degree in Engineering Science there in 1989, he attended Rensselaer Polytechnic Institute in Troy, NY where he earned a Bachelor of Science in Electrical Engineering in 1991. He then travelled west to California where he attended the University of California, Santa Cruz. He earned a Master of Science in Computer Engineering in 1993 under the tutelage of Prof. Charlie McDowell and Prof. David Helmbold. He earned a Doctor of Philosophy in Computer Science in 2000 with Prof. Darrell D. E. Long as his dissertation advisor.
While at UCSC, Ted was a key contributor to the REINAS Project. He began with the project as a Research Assistant and eventually ended up as a Programmer/Analyst IV. He was a developer, system administrator, and database administrator for the project. He continues to assist the project on a volunteer basis.
Ted's research interests include operating systems, database management systems, file systems, disk I/O, caching, and performance analysis and debugging tools. His research at the UCSC was supported by the Office of Naval Research.
Ted is currently employed by Oracle Corporation as a Principal Member of Technical Staff. His activities include deployment testing and system automation for Oracle Real Application Clusters on the Linux operating system, I/O performance and simulation testing, and evaluation of new I/O technologies for use with Oracle RAC. He has authored or co-authored multiple white papers, is a co-inventor on a patent application, and has presented at Oracle World.
Ted has been a member of the IEEE since 1989.
Ted got married in June 2004.
Publications
Resume
Favorite Links
---
Created by

Ted Haining Last modified: Tue Sep 30 08:04:52 PDT 2003