Research / Relighting Dome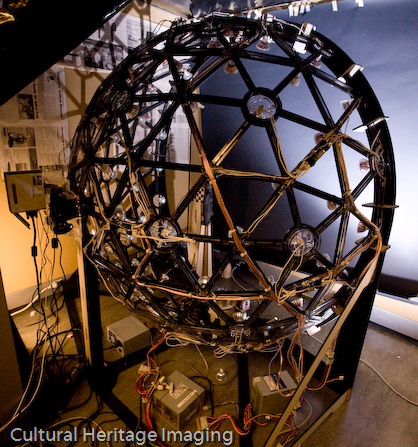 In spring and summer of 2007 I designed and built a relighting dome for the UCSC Graphics Lab. It's a 91-vertex geodesic hemisphere, pictured at left. Each of the 91 50W halogen lamps is individually controllable by the 12 custom-designed controller boards. Some tech specs:
Controller boards can each switch 8 12V channels at up to 5 amps.
Power distribution is designed for up to 24 power supplies to be connected, allow every lamp to be on simultaneously.
26 of the vertices are designed to have a replaceable module inserted into them. Currently 25 have lamps and one has the camera and projector module.
The dome itself consists of almost 1000 individually laser-cut pieces of acrylic, each generated by a script based on the desired vertex locations.
The control hardware is capable of switching the lamps at up to 3KHz, with ~50us latency from an external trigger.
Currently equipped with up to three Canon Rebel XTs for multi-baseline stereo and a PK10 projector for structured light.