Visualizations of Formation Initialization Algorithms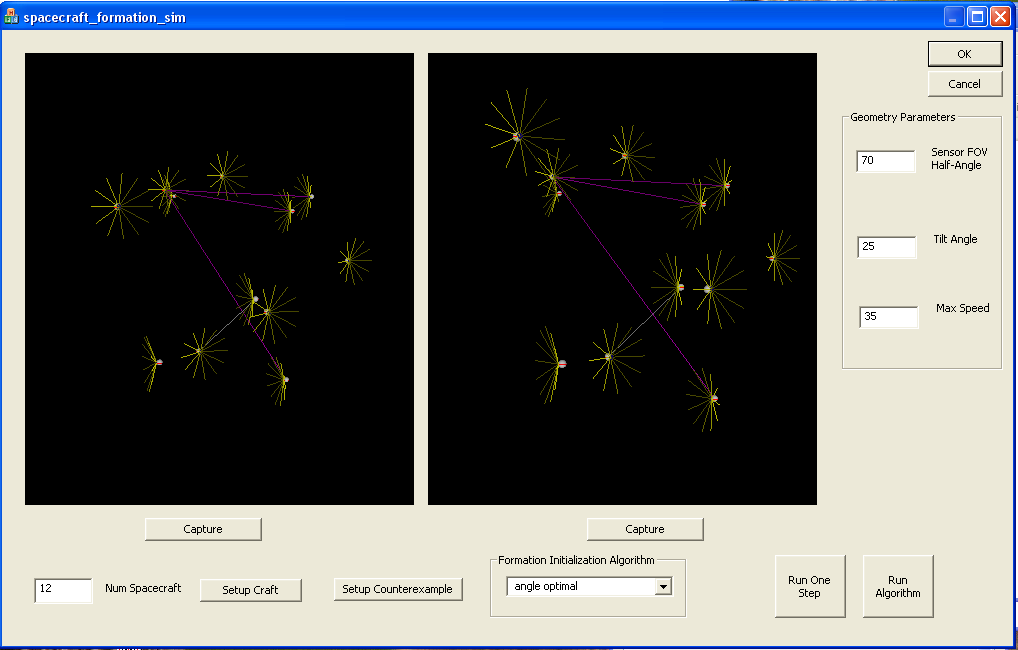 This program allows the user to simulate and visualize some of the robot coordination algorithms from the following submitted paper

Correctness analysis and optimality bounds of multi-spacecraft formation initialization algorithms
M Schuresko and Jorge Cortés
Proceedings of the 45th IEEE Int. Conf. Decision and Control, San Diego, Califor nia, USA, 2006, submitted.




Side Note: The algorithm marked "angle optimal" is actually not the algorithm we used in the paper, but a more complicated and less optimal algorithm we developed earlier on.
"2-pass simple" is the other 3d algorithm we present in the paper.
"3-pass simple" is a variant that works for narrower field-of-view sensor cones.
---
Note, in order to run this, you need a copy of MFC71.dll and MRC71R.dll. See the microsoft notes on distributing these files

You can download these files here (for mfc71.dll) and here (for msvcr71.dll). I think you need to put them in the same directory as the exe, but if you are sufficiently familiar with windows to do the "registering dlls" dance, then that might work too.

Download the app

Quick and Dirty Users Manual
Left mouse button rotates the view.
Right mouse button zooms.
If you click on a spacecraft with the left mouse button you can drag it around.
The pulldown menu specifies the algorithm to use
The text input boxes should be self-explanatory
"Setup craft" sets up a random initial configuration according to the parameters specified in the other input boxes
"Setup counterexample" sets up a case that requires the JPL algorithm to enter its third search phase (this phase is not simulated by this program)
"Run One Step" runs one step of an algorithm
"Run Algorithm" starts an animation of the whole algorithm
Each pair of spacecraft that has achieved sensor lock has a line drawn between the two craft.
The color of these lines is distinct for each group of spacecraft that knows about each-other.
---
mds at es oh ee dot you see es see dot eee dee you