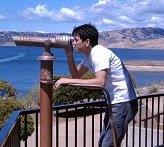 Erik.Matlin
at gmail dot com
Background
I am currently a Research Engineer at SRI International in the Sensor Systems Lab. I recently received an MSEE from UC Santa Cruz. There I was in the Multi-Dimensional Signal Processing Group and completed my thesis on single image haze and noise removal. Prior to UC Santa Cruz, I worked at Maxim Integrated Products in the Customer Applications group. I received my BSEE from Cal Poly in 2007.
Hobbies
I am a purple belt in brazilian jiu-jitsu. I also enjoy playing guitar and building vacuum tube guitar amplifiers.
10.25.2011
Website is up!
Single Image Haze and Noise Removal
Images of outdoor scenes often contain atmospheric degradation, such as haze and fog, caused by particles in the atmospheric medium absorbing and scattering light as it travels to the observer. Although this effect may be desirable from an artistic standpoint, for a variety of reasons (such as computer vision or sensing algorithms, or even pure curiosity) one may need to restore an image corrupted by these effects, a process generally referred to as haze removal. Additionally, all images contain some corruption from noise, and if not considered in the haze removal process, noise can dominate the results. PROJECT PAGE COMING SOON.
Single Image Haze and Noise Removal
MATLAB software for removing haze and noise from images. COMING SOON.