Shaomin DING's Webpage
Last updated 08/30/2005
---
---
Shaomin Ding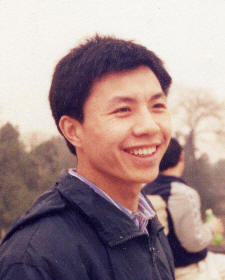 Graduate Student
  
  Department of Computer Engineering
  University of California Santa Cruz
  1156 High Street, Santa Cruz, CA 95064-1077
  E-mail: ding at soe dot ucsc dot edu
  Webpage: http://www.soe.ucsc.edu/~ding

Motto
Once Yun Yen asked Pai Chang, "Every day there's hard work to do. Who do you do it for?" Pai Chang said, "There is someone who requires it." Yun Yen said, "Why not have him do it himself?" Pai Chang said, "He has no tools."
Background
Pai Chang was always very insistent on working every day. When he was old he persisted in this, and the monks felt sorry for him so they hid his tools. He said, "I have no virtue. Why should others work for me?" And he refused to eat. He said, "A day of no work is a day of no eating." This saying became very famous in Zen circles, and to this day the Zen schools are noted for their practice of work.
Himself
This guy is simple. Life for him, is just to live, and to work.
Academic
He is a third year graduate student on his PhD program in Department of Computer Engineering, University of California Santa Cruz. His advisor is Professor Patrick Mantey. Just after a project on high-speed, ultra-low power and multiple-instrument data acquisition system, he is currently on project BiOSA (Biophysical Oceanographic Sensor Array) in MBARI, which is a general, low power, compact miniature platform capable of carrying a number of plug-and-play sensors in standardized sensor sockets to measure photosynthetic/bacterial activity, oxygen concentration, dissolved carbon dioxide, and pH. . After that he will work on clock synchronization for distributed control and data acquisition system as his dissertation.
Fields of Interest
Computer Architecture, ASIC / FPGA / VLSI design
High Speed Digital design, Schematic and PCB design
Embedded & Low Power hardware/software design
Control system and Data Acquisition system
Research & Project
Biophysical oceangraphic sensor controller 2004-2005
Communication Controller 2004
Numerically controlled Oscillator 2003
Instrument Controller 2003-2004
High speed FIR ASIC 2003
Pipeline CPU (2-phase 10-stage) 2003
PXI-DSP based DAQ 2001-2002
Multi-channel PCI-DSP based DAQ 2000-2001
RS-232 based DAQ 2000
UART 82C52 Verilog Implementation 1999
Some coursework
Fortran Programming Language
Programming Language (C and Java)
Data Structure and Algorithm
Software Engineering
Artificial Intelligence
Analysis of Algorithms
Computer Organization and Architecture
Advanced Computer Architecture
Advanced VLSI Design
Hardware Description Language (VHDL and Verilog HDL)
High Speed Digital Design
Digital and Analog Design
Microprocessor Theory and Interface Technology
Feedback Control of Dynamic Systems
Computer Observation and Control
Modern Control Theory
Computer Control and Simulation Techniques
Transducer Techniques and Applications
PC Real-time Control System
Automatic Control Theory
Tips
FPGA
SubVersion
Cygwin
Eclipse + CDT
GNU cross compiling tool chain
coLinux + Debian
Vmware Workstation
DesignWorks Pro
FLEXlm licence management
Link
Some links frequently visited.
Tool
Device
Vendor
Personal
Some of his Hobbies.
Gallery
Shaomin's lab
Santa Cruz
Johnson's Farm
Santa Cruz County Fair
Jenny's Farm
Hurstle Castle
Reno
Santa Barbara
San Francisco
Monterey